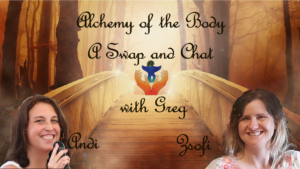 A Test Alkímiája
Csere délután és
Haka intro est
Greg Bryers-szel.
Április 21-én szerdán csere délután 13:00-17:30
Haka intro 18:00-20:00
Gyere és csatlakozz hozzánk egy csere délutánra, ahol élvezheted a befogadás és ajándékozás varázslatát
az Alkímia, a hála és az öröm teréből. Addig lehetsz velünk, amíg szeretnél és az esti Haka introra is örömmel
látunk. Hozd a csereberére  kérdéseidet és mindazt, amire szeretnél ránézni és tisztábban látni.
Zsófi és Andi is ott lesz,hogy fordítsanak.
Haka Intro 18:00-20:00 órakor
Ezen az estén Greg beszél arról, miért tart Haka tanfolyamokat és mit jelent
számára a Haka. Haka videókat is mutatni fog, mely segít bemutatni, hogy mit is jelent ez valójában.
Felteszi majd Neked a kérdést:…. ,,Hol rejtegeted a potenciálodat és miért…?" és aztán
,,Ez valóban működik Neked? Szeretnél ránézni arra, hogy miként tudod ezt megváltoztatni?"
Hajlandó lennél ,,minden" energia lenni? Nem állandóan…hanem amikor szükséges?
Hogy érti ezt Greg? És hogy tudjuk ezt megváltoztatni?
Meghívunk, hogy csatlakozz hozzánk és ízleld meg, mi lehetséges…
Egyéni kezelésre is lehetőség lesz Greg-gel 20-án és 21-én délelőtt a csere előtt. Igény szerint tolmácsolás elérhető. Választhatsz energetikai kezelést vagy masszázst is.
Befektetés Önmagadba:
Csere                         30 EURO
Bemutatkozó est:             30 EURO
45 EURO (Ha részt veszel a cserén és a bevezető esten is)
Alchemy of the Body
Swap afternoon and Haka Intro Evening
with Greg Bryers.
Wednesday 21st swap starts 13hr.-17hr.30
Haka Intro.18hr-20hr
Come along to a swap afternoon where you can enjoy receiving and gifting in the Alchemy space of Gratitude and Joy. You are welcome to stay as long as you wish and even join in the Haka Intro later in the evening. Bring a question to the swap that you would like to clear or look at as Translators Zsofi and Andrea will be there to help.
Haka Intro 18hr-20hr
Tonight, Greg will talk about why he is giving these haka classes and what Haka means to him. He will show video clips of haka that help show what he means.
He will ask you… "Where you are hiding your potency and why…?" and then…"Is this really working for you? Would you like to look at changing this?"
Are you willing to "all" energies?  Not all the time… but when required?
What does Greg mean by this? And how can we change this?
You are invited to come along and get a taste of what is possible…
Greg offers private sessions one day before the event, at 20th April and in the morning before the swap at 21st April. Don't speak English? Don't worry, translation will be available. You can choose energy work and massage as well.